Posted 01 January 2019 - 01:34 PM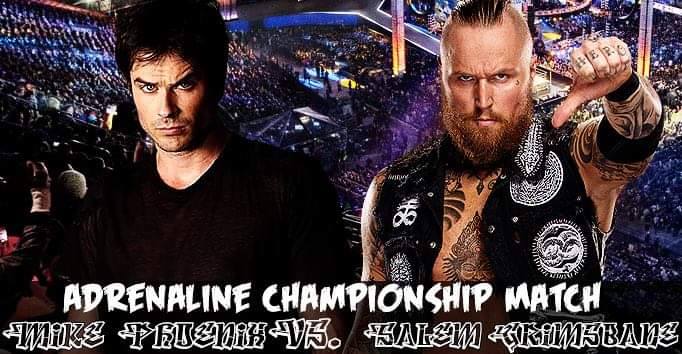 ---
Posted 12 January 2019 - 07:16 PM
It's been a while since I've been in a SEE ring. I guess I've just been out of the game dealing with personal problems and life in general, but now I'm back and I'm defending my SEE Adrenaline Championship at Atrocity 2 in a Loser Leaves SEE Match against Salem Grimsbane. Salem Grimsbane is a great talent... He beat Red Dragon, a former SEE Atrocity Champion in his very first match ever. That's a great accomplishment, but don't think I'm going to just kiss his ass. Oh no. That's far from what I'm going to do.
Fact is, Salem Grimsbane is talented, but he's coming after my SEE Adrenaline Championship and even more than that... He's trying to take away what I cherish most... My career here in Shrouded Enigma Entertainment. Fuck that. I've worked too damn hard and too damn long to just let some glorified rookie walk in and take my spot. I'm not going to lay down and let him beat me. I'm part of the greatest wrestling faction of ALL TIME... That's right, boys and girls. I'm talking about PANTHEON.
The likes of myself, Aiden Dempsey, and Heather Haze make up our ranks, and we're more than dominate in SEE. We hold all the cards in this game, and Salem Grimsbane is going to realize that when I beat his sorry ass at Atrocity 2 and keep MY title and MY job. I'm not going to lose. There's no way... No how. I REFUSE to lose to this son of a bitch. I beat the "great" Vero to win this SEE Adrenaline Championship and I will keep it as long as I see fit.
When Atrocity 2 rolls around, Salem Grismbane, I hope you are ready for a motherfucking war, because that's just what you're going to get! I will fight until my last breath, and I will NOT be sacrificed in your name. I'm ready to prove why I'm the SEE Adrenaline Champion, and Salem, I'm going to show you why they say that a Phoenix ALWAYS rises from the ashes. The dawn of the new era of Mike Phoenix is here. Now get the FUCK out of my way or suffer the consequences.
As the scene opens up, Mike Phoenix is seen sitting in a fancy Italian restaurant located somewhere in his hometown of Miami, Florida. He has a big smile on his face and as the camera shifts, you can see a beautiful young brunette sitting across from him at the table. She seems shy and reserved and looks around the place before turning her eyes back at Mike.
"I'm really happy you finally decided to let me take you out to dinner."
The young girl was 18 year old Jasmine Skye, a student of Mike Phoenix at his wrestling school. It was taboo to be dating his own trainee, but he didn't care. Ever since he split from Katie he had been pretty lonely staying at home by himself and not really socializing with anyone, so this was his first night trying to get back to being his usual self.
"Yeah, I didn't know at first. I mean, people are going to talk about us."
"I'm 32 and you're 18. I know we're miles apart in age, but it doesn't matter. I've known you for a while now, and we've grown close. You're honestly my favorite person to be around."
"Thanks, Mike... I like being around you too. You're really sweet and nice to me. You haven't tried to take advantage of me like a lot of guys. I really trust you."
"Trust is important in building any relationship. Friendships or... You know, more than that..."
Jasmine took a drink of her glass of water which she had since she was too young to partake in wine or any alcoholic beverages legally.
"Is that what you want from me? Something more?"
Mike leaned in on the table and propped his head up with his arm and rested his chin in his hand.
"Well, you're beautiful beyond belief. Funny and smart too... You've got everything going for you. I'd be lying if I said I wasn't looking at you for more than friendship. What about you? Do you just want to be friends?"
Jasmine took a deep breath and felt really nervous talking about this. She wasn't about to tell Mike, but she had never been with a man before. She was still a virgin, so relationships weren't her strong point.
"Well... I think you're really handsome and I, um... I like you a lot."
"I like you too, Jasmine. That's why I think this is all beneficial to the both of us."
Jas
mine Skye:
"I'll be honest... When I was younger, I watched you on TV and always had this big crush on you... But talking about this stuff makes me nervous... You know that I'm shy and all that..."
"You don't have to be shy around me, Jasmine... Look, I'll be up front with you. I want to be with you. I think you're really special, and I'd love to have a girlfriend like you. Being around you just makes me so happy and I can't even remember the last person that made me feel like that. It's not something that comes by every day, ya know?"
"You make me happy too... And well, if you want to make it official, then sure... I'll be your girlfriend. But can we take it slow? I don't want to rush into things..."
"Sure... I'm not going to push you into anything you're not ready for Trust me, Jasmine. I care about you a lot, and I'm not going to hurt you. I promise that to you."
"Thank you so much. You're a great guy, Mike. I don't think I've met anyone like you before. You just make everything... Better."
"I try... Now, what do you say we order something? I'm starving."
Jasmine laughed a bit and smiled brightly.
As the scene ended with the two looking at their menus and conversating, it picked back up later as the two were finishing up dinner. As Mike put down his fork, he took a sip of white wine and sit back in his chair. He seemed satisfied with his meal. He looked at Jasmine and the two exchanged a smile before they began talking once again.
"So, do you think you'd like to officially manage me in my match at Atrocity 2? I really need all the support I can get. I don't think Aiden or Heather's going to back me up on this one."
"You really mean that? You want me as your manager?"
"Sure, why not? You've got the credentials. Besides, you're overdue for your SEE debut. You've been busting your ass for a while now preparing for it."
"I'll do it... I'd be honored. I just hope I don't screw things up. I know your career is on the line, and I... Well, I couldn't bare the agony of it all if I somehow cost you the match."
"You won't. Believe me, I'm not going to lose this match. There's no way in hell I'm going to lose."
"I know you'll win. I believe in you."
"Thanks, Jasmine. I really appreciate it. I need all the support I can get."
"Just tell me what you want me to do..."
"Well, there was one idea I had..."
As Mike leaned in on the table, Jasmine leaned in as well and the two started to talk strategy for his upcoming match against Salem Grimsbane at Atrocity 2. Would this be the last time we saw Mike Phoenix in a SEE ring? Would he lose his SEE Adrenaline Championship AND his career all in one match? Only time will tell, but it seems he has has a plan and he's ready to carry it out at any cost.
The scene fades to black and comes to an end as Mike Phoenix and Jasmine Skye are seen speaking, but nothing but faint whispers can be heard.
Jennifer Enigma likes this
---
Posted 20 January 2019 - 02:13 PM
Conflicted

For those that don't know who I am... Let me introduce myself. I am Salem Grimsbane, the best thing going in Shrouded Enigma Entertainment today. That might be a bold statement to make, but it's the damn truth. I've had two matches, one win and one loss, and sure, the loss hurt a lot, but in my third match, I've got an unprecedented chance that most people don't get. That's right... A championship opportunity.
At Atrocity 2, I face the so-called "great" Mike Phoenix, Pantheon's golden boy, for the SEE Adrenaline Championship. For this match to go down, I had to agree to a stipulation that I don't think goes in my favor, but it doesn't exactly favor Mike Phoenix either. See, whomever loses this match is out of Shrouded Enigma Entertainment. That's right. It's a Loser Leaves SEE Match. One of us will walk out fo Atrocity 2 the SEE Adrenaline Champion and the other will walk onto the unemployment line.
I don't intend on letting the whore known as Mike Phoenix beat me. He can go around talking all the shit he wants and running his big mouth, but at Atrocity 2 I'm going to shut him up for good. I'll do what nobody has done so far and that's end the career of the legendary Mike Phoenix. He's had years of success, but he's been more focused on fucking girls than he has on been on defending that SEE Adrenaline Championship.
He's not a role model. He's far from it. He's an embarrassment to the SEE brand, and I will end his silly antics once and for all. Atrocity 2 gives me the opportunity to finally achieve what I've wanted from the beginning... Championship glory. I want people to know and relish the name of Salem Grimsbane. After the the pay-per-view, people are going to be talking a lot more about me and a lot less about Mike Phoenix.
As far as you go, Mike... That stupid cunt you've got now for a girlriend, Jasmine Skye... Well, she better stay out of my way or I'll shut her up the same way I'm going to shut you up. I believe in equal lefts and rights for women, so just give me the chance to get my hands around her pretty little neck. I'll choke her out and make her realize that being your girlfriend doesn't have the perks that she once thought it did. She made a fatal mistake in deciding to be your bitch. Keep her out of the match, Mike... Or I WILL hurt her. I promise you that much.
And as far as wishing you good luck goes... Screw that. I'm coming to take you out for good. I'm sick of you and Pantheon running amok on SEE. I'm going to end your career and send Pantheon the message of a lifetime. That Salem Grimsbane is here to save SEE. I am the savior... Whether or not anyone wanted me to be or not.
As the scene opens up, Salem Grimsbane is seen sitting at his home at a disclosed location somewhere in the Eastern United States. He's browsing the internet on his laptop as he sits on his black leather couch and seems pissed off at something he is reading and that's when his girlfriend Priscilla Vexx comes into the room with a cup of coffee that she has prepared for him and sits down next to him, handing him the coffee.
"Can you believe this shit? People are actually rooting for Mike Phoenix to beat me at Atrocity 2?!"
"Well... He's a pretty popular guy."
"Oh, not you too, Priscilla."
"I'm not a big fan of his to be honest."
"Good... I was about to get pissed off."
"Yeah, I expect your full support right now. I don't need you on his freaking side."
"I'm not on his side. Jesus. You've become so paranoid as of late. Are you really letting him get that much inside your head, Salem?"
"You'd be paranoid too if your career was on the line."
"I know it's really important, but SEE isn't the only wrestling comp..."
"No, it's the ONLY wrestling company for me, Priscilla."
"Well, what can I do to ease your fears?"
"I'm not scared, Priscilla. Get that shit out of here."
"Look, if you want to start sucking on Mike Phoenix's cock, go right ahead."
"You think I need you for support? Fuck you."
"What the FUCK is your problem, Salem?!"
"Just get the hell away from me, woman. You're not helping me right now."
Priscilla got up from the leather sofa and looked down at Salem and placed her hands on her hips and was definitely pissed off at that moment in time.
"At least Mike Phoenix knows how to treat a woman."
"Yeah, yeah. Take it elsewhere, bitch."
"Fuck you, Salem. Seriously. FUCK YOU!"
Priscilla stormed off in anger as Salem sat there boiling mad as he looked at the comments fans were making about his match with Mike Phoenix at Atrocity 2. He shook his head and buried his head in his hands.
"God damn it. I need to focus."
As he said that, he slammed the laptop closed and tossed it beside him on the sofa and got up, throwing the cup of coffee Priscilla made him against the wall. It went everywhere, breaking the cup against the wall and making a huge mess. He was breathing heavily and just seemed very unstable. Mike Phoenix was in his head and he couldn't even trust his own girlfriend right now. Atrocity 2 was just around the corner and he needed to figure out what he was going to do, but was there enough time to do that? The scene fades to black as a very conflicted Salem Grimsbane in seen standing in his living room seething mad at the situation he was in.
---
---
0 user(s) are reading this topic
0 members, 0 guests, 0 anonymous users